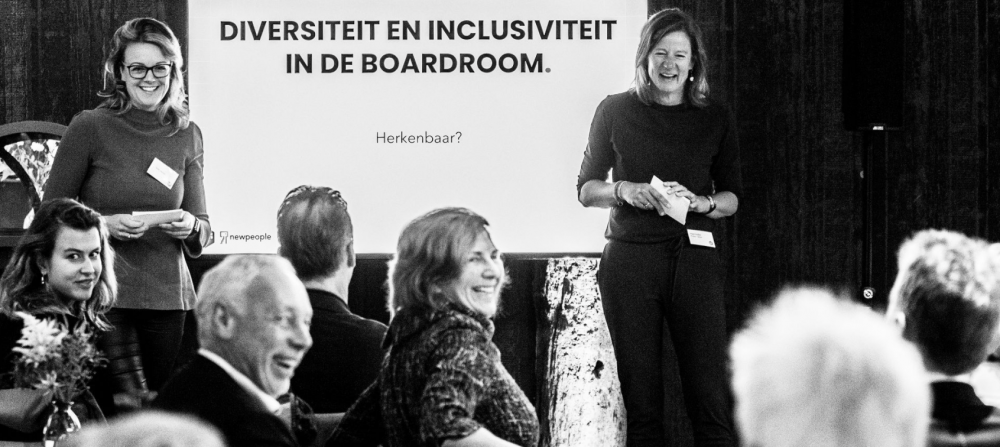 Digital leadership as a driver for diversity in the board
2 December 2021
On 4th November we, Newpeople, organised a session about diversity and inclusion in the boardroom on the Day of the Commissioner organised by the NCD. A highly interactive and stimulating session that brought a lot of commotion. What was the message? Read our story here.
Diversity and inclusion in the boardroom
There is a big call for diversity and inclusion in the boardroom. Everyone agrees that there need to be different perspectives in the board and that all these perspectives need to be heard in order to supervise well. Attention is already being paid to the ratio of men to women and there is a legal quota of 30%. Cultural diversity is also increasingly gaining attention. So, where is there still ground to be won? In our daily practices we see that adding digital leadership brings a new generation into the boardroom.
Inclusion is about giving space to other ideas and ensuring that other perspectives are heard. Stepping away from what you know. Our experience is that, in this, little to no risks are taken. When hiring a new supervisory board, we see that managerial experience often is the number 1 prerequisite. Often, this is chosen over specific expertise. Even if an organisation has certain needs, to grow digitally for example, we see that the organisation still looks at managerial experience. A great CV that exudes digital leadership is ignored for that reason. Experience often trumps expertise in this specific domain because it is seen as a 'safe bet'. But, adding (digital) expertise to the team, helps create diversity in your supervisory board.
Don't be afraid to let go as a board
As a current supervisory board, dare to take a risk and don't be afraid to let go of what you've always done when taking on new members. There are ways to add new competences in a responsible manner. How do you ensure a well-balanced supervisory board where (digital) expertise and managerial experience are both present?
Our tips for a diverse and inclusive board
A supervisory board can welcome a new member without that person learning how it works – a kind of internship that stretches across different fields of focus without direct responsibility.
A supervisory board can add an extra discipline – be it a low-risk one
A supervisory board can add a training role whereby that person is linked to an experienced member on a 1 to 1 basis. Observation and coaching by another supervisor ensures a fast-paced learning curve.
Would you like to spar about these ideas at any point? Call or e-mail to make an appointment at hanneke.rinkes@newpeople.nl or at +31 (0)6 46 07 41 03.