The right digital leadership ensures a greater chance of success for your digital transformation
4 March 2021
In a study published by the Boston Consultancy Group together with the World Economic Forum, 825 leaders were asked what made their digital transformation a success: The right digital leadership appears to be at the heart of the 6 most important success factors for a digital transformation. to succeed! It is striking that only 30% of leaders believe that their digital transformation has actually achieved the goal.
The 6 success factors:
1. Put the best digital talent to work. Companies often do not have the digital leadership in-house to start a transformation and make it succeed.
2. Get the involvement from the top and middle management of the company.
3. Create an integrated strategy with clear transformation goals.
4. Provide flexible decision-making from the board.
5. Effectively monitors progress and goals.
6. Provide a business-driven Technology and data platform.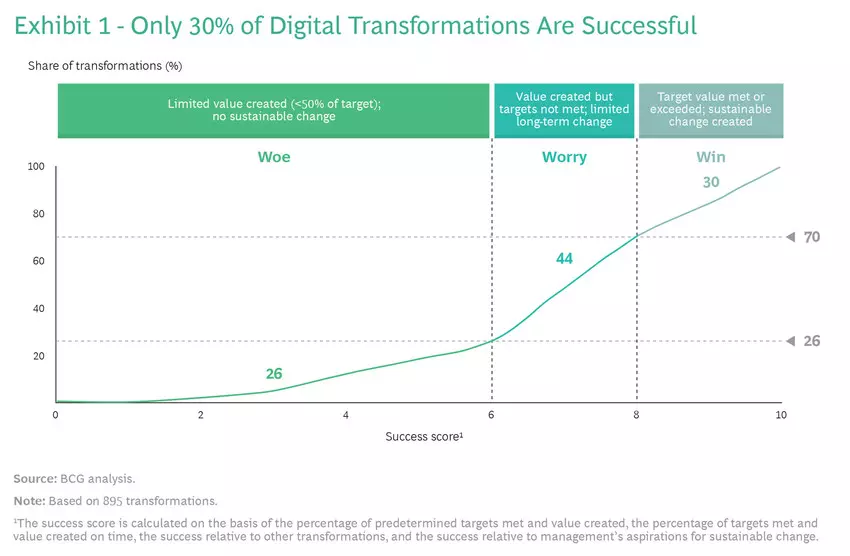 At Newpeople we see that the complexity and urgency at companies around digital transformation issues is increasing. The demand for the right digital leadership that fits the phase and challenge of the transformation is therefore increasing and success factors 1, 2 and 3 are the basis for every successful transformation.
Choose a digital leader who understands what phase the company is in and who fits the challenge that comes with it. Sector knowledge is of secondary importance. Which success factors do you find most important for your digital transformation within your organization?
Read more about this topic at World Economic Forum.